Used Engines Online - Genuine OEM Auto Parts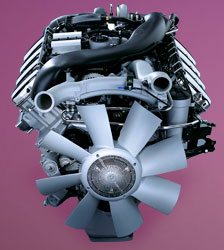 Did you know that your car will take in 20,000 cubic feet of air to burn 20 gallons of fuel? That's the equivalent of a 2,500 sq. ft. house! If your only experience with a car engine's inner workings is "How much is that going to cost to fix?" this graphic is for you. Car engines are astoundingly awesome mechanical wonders. It's time you learned more about the magic under the hood!
Used Gasoline Engines
A gas engine is an internal combustion engine with spark-ignition, designed to run on petrol (gasoline) and similar volatile fuels. It was invented in 1876 by a German inventor Nicolaus August Otto. With gas engines the fuel and air are usually pre-mixed before compression (although some modern petrol engines now use cylinder-direct petrol injection). The pre-mixing was formerly done in a carburetor, but now it is done by an electronically controlled fuel injection although smaller engines still use carburetors. Gas engines are the most common engine and are one of the most important parts of your car which is why it's so important you get it from AllUsedParts because of our reliability and quality engines.
All of our engines come with a free 1-year warranty
Used Diesel Engines
Diesel engines are an internal combustion engine that use the heat of compression to initiate ignition and burn the fuel that has been injected into the combustion chamber. This contrasts with spark-ignition engines such as a gas engine which use a spark plug to ignite an air-fuel mixture.
Samples of Used Engines in our inventory